"My voice, our equal future" – reimagining a better future
2020-10-11
Getting girls to stay in school is a cornerstone for wider development of society. Humana People to People celebrates International Day of the Girl Child on 11 October. In 2020, the theme for the day is "My voice, our equal future".
Humana People to People supports young girls and adolescent girls to access education in the global south. Humana People to People is for equal opportunities between female and male groups. Equal rights and opportunities for girls and boys help all children fulfill their potential.
A report from the UNICEF earlier this year warned that a third of the world's poorest girls, aged between 10 and 18, have never been to school. The report shows, there are 130 million girls who are completely missing out on school.
Widening access to education for girls has a multiplier effect for communities - improving women's chances in employment, delaying marriage, making families more prosperous, and increasing the health of the next generation of children.
For many deeply impoverished families there are some very tough choices about whether they have the resources to send their girls to school. There is a risk that girls are married off at a young age or kept at home to work, which might free up an adult to go and earn an income to get food for the family.
Humana People to People taking action on girls missing out on school
ADPP Mozambique is a co-founder and member of the Humana People to People, a network of 30 not-for-profit organizations present in 45 countries spread across Europe, North America, Africa, Asia and Central and South America.
Between April 2014 - March 2020, ADPP Mozambique implemented a project named Nikhalamo (Girls Stay in School), a word that loosely translates from the local Chuabo language to mean "I am here in school to stay", which affirms girls' intention to stay in school.
Nikhalamo project was designed to address the various barriers that hamper primary school completion and transition to secondary schools among vulnerable girls in the district of Namacurra, Zambezia Province of Mozambique.
The project supported girls to access education by availing Community Block Grants which promoted enrollment of girls, improving the learning and sanitary environments at the local schools, strengthening life skills among young girls, and mobilizing the community members to support the education of the girls through awareness raising activities and early childhood development activities.
The project reached out to 5,878 girls aged 10-17 years. It covered in 23 primary and 3 secondary schools from and an estimated 15,000 community members.
Key outcome of Nikhalamo project in 2019 were:
76 primary and secondary school teachers trained in gender and child-protection for continued delivery of gender-sensitive and child centred pedagogy;
130 school council members trained on gender and child protection for an enabling, gender sensitive and safe environment for learning;
Restored vulnerable girls' dignity during menstruation through distributing 2,900 reusable and 1,500 disposable sanitary pads;
Constructed 14 separate latrines and 5 community preschools;
Implemented 30 after school clubs, 7 science, mathematics and technology clubs, 26 reading circles and 26 WASH (Water, Sanitation, Health and Hygiene) clubs;
HIV/AIDS prevention advice and age appropriate sexual reproductive health rights teachings;
Awareness campaign for girls and boys on the negative consequences of child and forced marriages, as well as the dangers of teenage pregnancies and how to avoid them;
Gender norms sessions reached 5,100 women and men with key messages on non-harmful gender norms to promote equality in the home.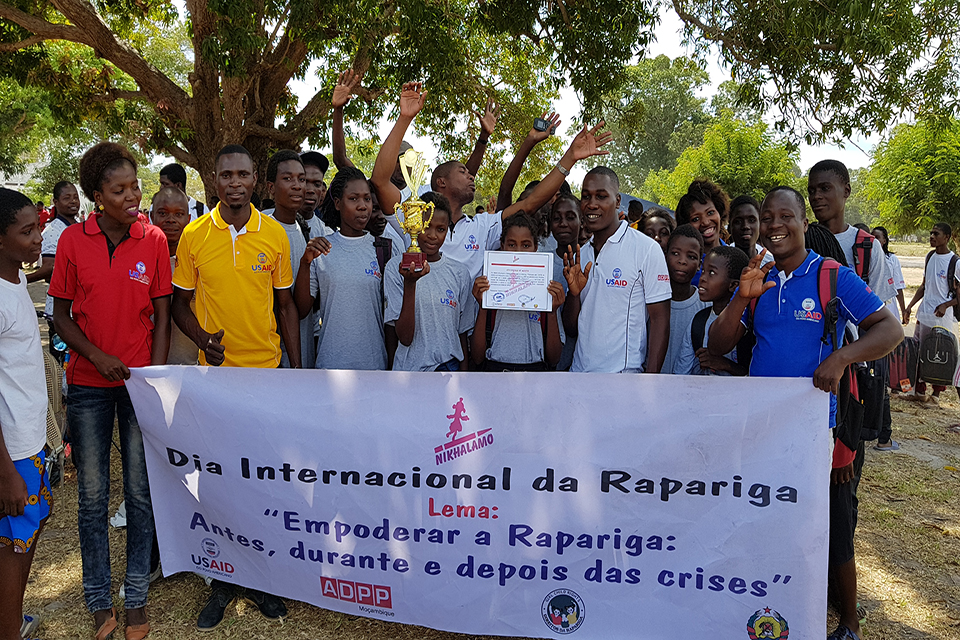 The project provided a second chance to girls and young women who wanted to complete their primary or secondary education or who wanted to acquire livelihood skills. The special focus on vulnerable girls completing upper primary school and transitioning to lower secondary school was key in breaking traditional norms and practices of early forced marriages.
A key component of the project was on strengthening the girls' academic performance and life skills through promoting a strong reading culture, both in school and at home.
Nikhalamo was implemented through close collaboration with education authorities and local communities. The synergy creation has meant better retention of girls in schools and that issues of keeping girls out of the learning process were addressed by integrating government involvement as well as local leadership structures.